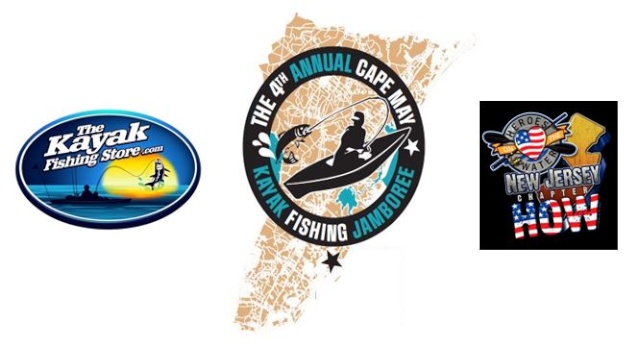 This past weekend we took part in our third, kayak angling specific, tournament of the year, only this event is not touted as a "tournament", it's a jamboree.....
What the hell is a jamboree!? (If you've never attended this event, and you were never a boy scout or girl scout, this is what you're probably asking.) For our purposes let us say that a jamboree is a gathering of loosely affiliated entrants who share a common avocation, for the purpose of engaging in some friendly yet sporting scrimmage.
There is a "calcutta" or pool for the largest fish, lots of raffle drawings, and a big party with food at the end. This year the event was held at
Lake Laurie Campground
The money raised by the event was for the
New Jersey chapter of Heroes On the Water
.
In the jamboree no prizes are awarded for first, second, and third in the various categories. Instead, those who wish to play can put five bucks into a bin which corresponds to a fish species. The angler who registers a photo of the largest fish of any of the species involved within the allotted time wins all the cash for that species.
The species were: Redfish. Weakfish. Striped Bass. Tautog. And Bluefish.
We arrived Friday afternoon at the
Kayak Fishing Store
. There were car topped kayaks and kayaks going into the water and kayaks coming out: this was the jumping off point. We got directions to Lake Laurie from a guy in a
Kokatat
dry suit with a David Crosby mustache, his name was Paul, he was very helpful and as it turned out he had a key to the store so he let us in and I was able to get a battery for my
Humminbird
fish-finder/ GPS which I needed to complete the troubleshooting and repair cycle of the last couple trips. IT FINALLY WORKS!
The Captain's meeting was at 6 pm.
As for Captain Alexi and Captain Steve, this time of year our primary target is Striped Bass, and so it was for the tournament. Since we share a surf fishing and back bay kayak fishing background, Tautog are not really a familiar species to us, so we each put in cash for all the species except Tog since we agreed it was not reasonable to expect Tog as a by-catch while targeting Striped Bass.
Finally a tournament with night fishing!
Some guys at the captain's meeting were already drinking beer, enviable, I thought, but we were drinking coffee and five hour energy (Alexi brought a case). There was heavy wind in the forecast for the following day, the best conditions would be night and early morning. There was much fishing to be done......
If there is one thing we've got going for us, maybe more than anything else it is our endurance. I am not exaggerating when I say we each fished a total of sixteen hours all through the deep night and into the next day and the truth is: the fishing was not so good. One short bass for Alexi and nothing for me all night.... In the early days of our fishing we fished the surf, so when we made the switch to kayak fishing we were already very used to putting in long hours walking the beach and casting, and regularly catching few or no fish.
We started where we had good results in the past. When those spots failed we tried some new areas. We were Trolling Tube-and-Worm, we were drifting eels, we were casting a variety of lures.
At first light we were over some sand flats approaching the inlet.
We decided to head over to the rock walls across from where we were and to troll along the bottom structure with weighted tubes. Alexi got there first while I was re-rigging due to some typical shit-storm. Over my VHF I heard him say "Perchman... I've got something... I need photo assistance". I paddled over and he pulled up a nice fish about 30" and real fat.
He was hooked up again while I was battling another shit-storm and once I was back in action I was on too. I lost the first fish wheeled around and went back over the same spot. The tide was slack and I was positioning my tube precisely with my boat and watching my depth-finder, I was watching my rod tip telegraph my weight 'ticking' the bottom when in typical Tube-and-Worm fashion I stop and drop the tube and WHAM! Now is the hard part: I keep paddling, I know I lost the first fish because I picked up the rod too soon. There is another hit then, WHAM! again, and now the drag is engaged I pick up the rod and feel the weight of the fish. A nice tow and few drag pulling dives and I leg the fish onto the deck. I measure The fish at 32" this one is real fat too.
It was still early but we felt pretty confident. My 32" might be in contention.
Unfortunately the bass bite seemed to be over. And that was pretty much the day, and the tournament for that matter. A few more small bass were caught but after the wind started to build we were ready to head in.
Back at the hobo camp fatigue was gaining the upper hand.....
But the Tog guys were just getting going!!!
By 4:30 pm I was registered and in the lead for Striped Bass... By sometime around 8 pm, 26 hours after the captain's meeting the night before and without a lick of sleep I left the party to find a toilet. Asleep upon the noble john I wake to my phone ringing... It's Alexi... He says "Hurry and get back to the party! You won!"........
I WON!!!